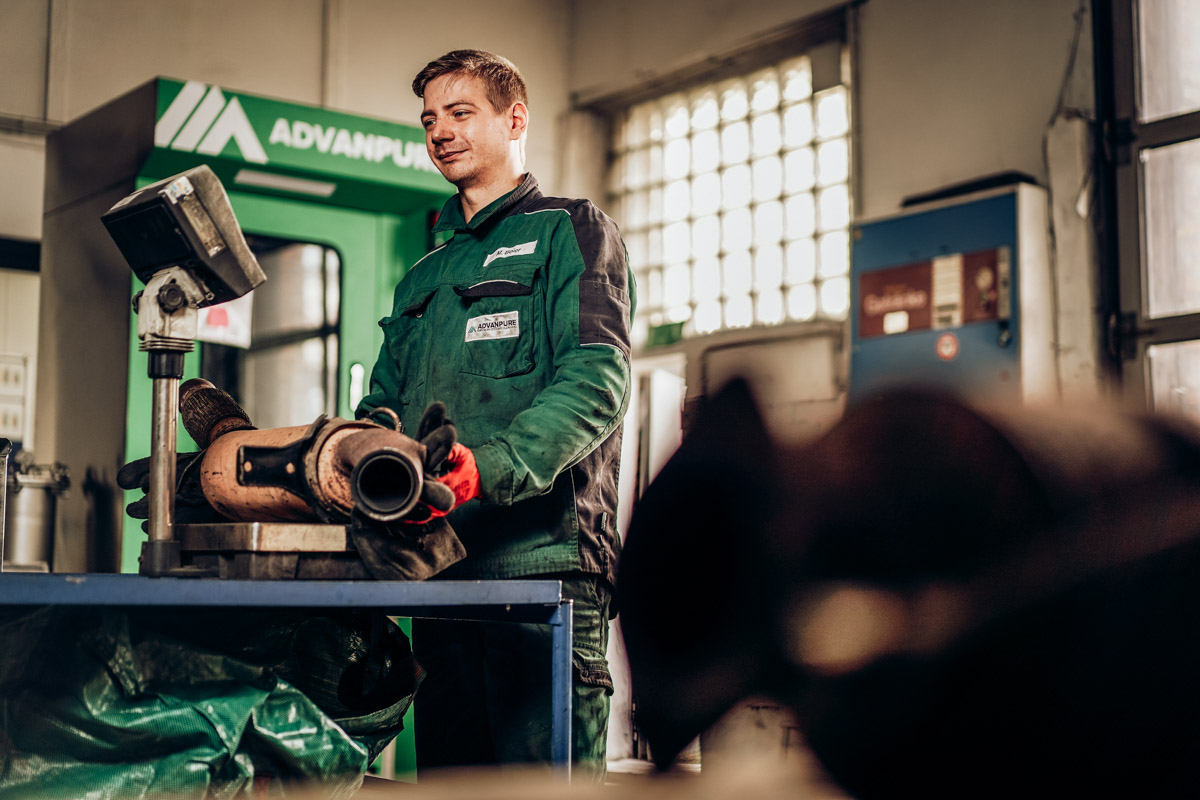 (Machine Translation, read the original version here)
Cleaning with compressed air is divided into two processes, from simple blowing with compressed air to complex cleaning systems.
Application
In the first process the removed filter is blown out with compressed air. For this purpose, the filter is usually fixed mechanically and cleaned with the help of a pressure gun and compressed air. It should be noted that only the loose ash in the filter is removed. The stuck soot particles are not removed from the filter. As a result, the fine channels in the filter that are blocked with soot cannot be completely cleaned of ashes and thus cannot be cleaned. In addition, the blown ash is released into the environment if no suitable extraction system is available.
The second procedure is much more complex. The filter is placed in the cleaning system (closed housing) and fixed. In the fully automatic cleaning process, compressed air is applied to the filter to clean it. In addition, drinkable aerosol is added to the system for a short time, which, according to the manufacturer, reacts with the surface of the filter and gently removes all contamination such as soot, ash or oil ash deposits. The main cleaning takes about 10 minutes, after which the DPF is dried at low temperature for several hours.
The diesel particulate filter (DPF) is tested for flow-through behaviour before and after cleaning. According to the manufacturers of these cleaning systems, the DPF has almost the target value of a new filter after the cleaning process. All test data are recorded in detail in a test protocol and delivered to the customer with the cleaned filter.
Advantage:
Active ingredient component is non-toxic
no damage to the catalytic surfaces by the active ingredient components
short cleaning process
no cutting of the filter housing necessary
Disadvantage:
no guarantee that the compressed air mixture reaches all chambers of the filter.
Solid soot particles are certainly not dissolved by the compressed air mixture and remain in the filter
Introduction of CO2/dry snow can not only embrittle ash and soot residues, but also damage the filter surfaces
No information on environmental pollution, blown out ash and soot particles are released uncontrolled into the environment if no filter systems are available
Conclusion:
In the first procedure a binding statement can never be made about the degree of cleaning. The filter is only partially freed from ashes, but not from stuck soot. Although this is a quick and inexpensive solution, due to the low efficiency the filter will very quickly become clogged or full again and further cleaning processes will be necessary. According to the manufacturer, the second method is much more effective, but here the question arises as to whether cleaning with the compressed air mixture really does remove the soot particles stuck to the filter surfaces. CO2 and dry snow can even damage the filter surfaces on the inside
Further DPF cleaning methods we show you in the following articles:
(PART 1) CLEANING WITH CHEMICALS
(PART 2, this article) CLEANING WITH COMPRESSD AIR
(PART 5, upcoming) THERMODYNAMIC CLEANING IN COMBINATION WITH WET CLEANING…